Even though it took us a while to find out her "real" name (sometimes I still want to call her Madigan), Shannon is the super creative and talented DIYer behind Madigan Made, where she shares simple DIY ideas for you and your home.  From crafting ideas to holiday creations to blogging tips, Shannon shares simple crafts & decor for everyday living.  With Spring in full swing, this is the best time of year for garage sales and thrift shopping, and thanks to Shannon, she's sharing her favorite thrifting tips.
Shannon, take it away…
Hi there! I'm Shannon and I blog over at Madigan Made. It is a place where I love sharing simple crafts and easy DIY décor ideas.
I love thrifting… do you?
I find that it is a unique and personal way to decorate your home… no one else is likely to have that same fun find in their house.
I've been thrifting for many years and I like hitting up various types of venues: thrift stores, antique malls, flea markets and garage sales. I'm not an expert but there are a few things I've learned that you should keep in mind when you go out treasure hunting…
One. Keep a list of your needs.
You never know what you are going to find when you thrift. I try to approach a thrifting trip with a few goals in the back of my mind. It helps me focus and edit my purchases down to what I really 'need'. I used to keep a mental note… but now I jot down a list in my phone so I always am reminded of what I should be looking for.
For the longest time I knew I wanted to find an old sled for our winter front porch, a large frame to turn into a chalkboard, and some kind of rack to use to store my sunglasses. I eventually found all of these things with time and patience. Having that list helped me zone in and search for these objects when I walked into a store.
You can also shop by a frequent need, too. I love picking up big, chunky frames, white creamware/milk glass and clear glassware I can paint for projects.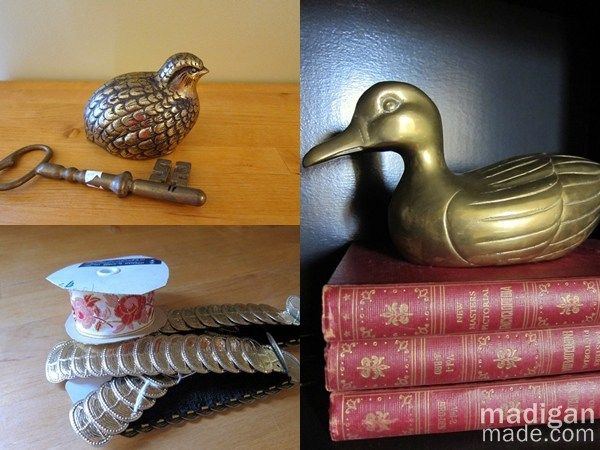 Maybe there is a certain accent color for a room that you can keep alert for?  For example, I was on the lookout for brass accents this past year.
Two. Be open to surprises, too.
Sometimes the thrifting angels are on your side when you aren't even looking for that special object. It finds you!
I enjoy going with my mom to flea markets and one time when I was out with her I walked by this long wood tray (called a biscuit riser by the stall vendor). It was cool but I  was not sure what to do with it… until I saw antique pool balls at another stall one hour later. I bought the pool  balls and ran back to grab the tray. Thank goodness it was still there! The pool balls fit perfectly on the tray!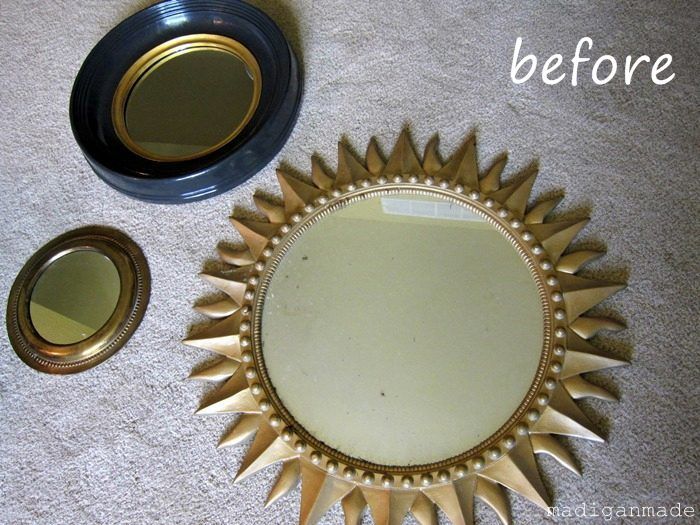 Another time I was on my way somewhere else last summer and  I randomly stopped at a garage sale. I saw this hu-mon-go starburst mirror and had to get it. Then, I drove around the corner and found a round, brass mirror at another sale. When I got home I realized that if I stacked these two with a black mirror I already own… they fit together perfectly! I made a big, layered sunburst mirror from all three. It was mirror serendipity, I swear!
Three. Look high and low.
Don't forget to look at those lower shelves or in that back corner of the store or booth. You might find that hidden treasure that everyone else did not see.
My friend Diane taught me to also check out other areas of thrift stores that you might not think of… like bedding for pretty vintage-y fabric. (This is me and Holly from West Pear Avenue out on a local shopping trip.)
Four. Think outside the box.
I am constantly looking for things I can repurpose for other uses.
Take a step back from an object and ask: Can I paint it? Can I use it for a different purpose that the original intent? This is my FAVORITE part of thrifting… finding an ugly duckling that just needs a little DIY love!
Five. Ask yourself that hard question…
Do you really need it? Do you have a use for that object today?  If you can't answer these questions in the affirmative, maybe you should put it back.
I know. It's not easy because the price might be sooo right. But I am a big believer in keeping our house as simple as possible… so I try very hard to limit how much extra stuff I bring home. In fact, I make a point to try donate as frequently as I can to thrift stores. If I'm heading there to shop, why not bring a bag of donations with me, too?
I hope these tips help you prepare and get you excited for thrifting season. You can find out more about my thrifting finds here and here.
And don't forget: shopping is always more fun with others… so wear comfy shoes and team up with friends or family who also enjoy a good bargain hunt! I had loads of fun last year at our Philadelphia I <3 Thrifting event  last summer. (and hope this year's will be just as fun!)
Happy thrifting and feel free to stop by Madigan Made  anytime to see what treasures I find this summer! I would be thrilled if you wanted to stop by!
Don't you just want to run out to a thrift store right now?! I know where you'll be going this weekend. Watch out garage sale owners – my readers are armed and ready with some great tips.  Thanks so much to Shannon for those simple and helpful tips on how to thrift, and be sure to head over to Madigan Made to see more great DIY creations.
What are your favorite things to look for at thrift stores?  What favorites have your found while thrifting?